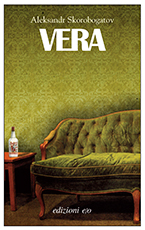 On April 27 my book "Vera" will hit the stores
in Italy.
Hope you'll like it.
The book is published by the trendsetting publishing
house 'Edizioni E/O' (Rome) in a translation by Martina Cocchini (Aleksandr
Skorobogatov, 'Vera', Edizioni E/O, Rome, 2011, ISBN 9788876419188).
Click here to find more info: scrittore
russo .